Please Vote for Edublog Awards
I am excited to announce four of our AJUSD members have been shortlisted as finalists for several Edublog Awards.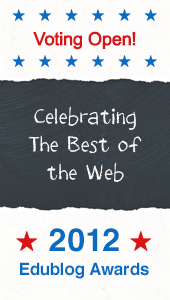 Voting is open until 9:59 pm (Mountain Time) on Sunday, December 9th.
You can vote once everyday, for as many categories as you want.
Only one vote will count per day, per IP address. That means that only one vote counts from the district network, so please vote from home!
Here's how to vote:
1) Go to the Edublog Awards Voting Page.
2) Use the drop down menu to select your category and choice. Then press vote. 
Here's the voting categories and blogs of our AJUSD people:
It's an honor to be nominated and shortlisted for voting. I'd like to encourage you to vote to celebrate what is going on in AJUSD.
Feel free to explore the other fabulous blogs listed and share with others!